Outstation Cabs from Nagpur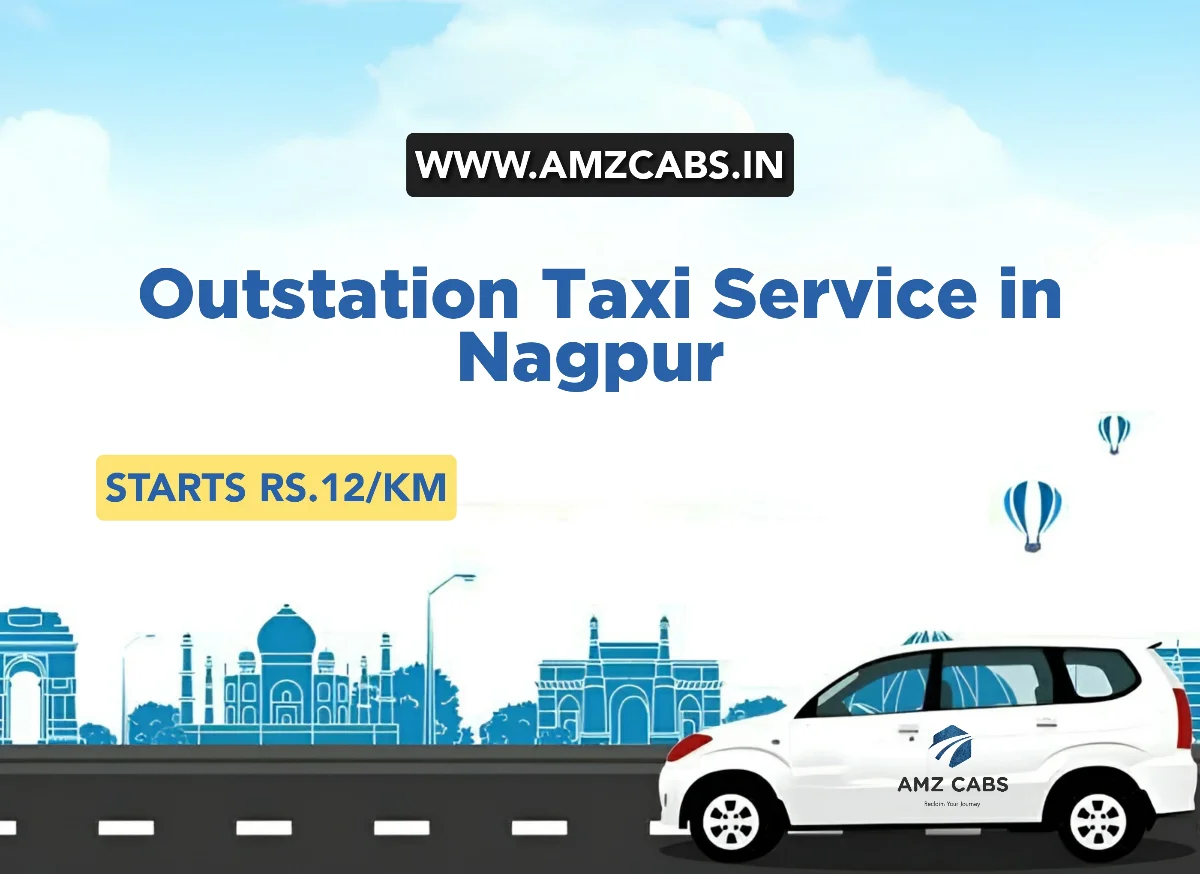 Book Affordable Outstation Cabs in Nagpur with AMZ Cabs
When it comes to exploring the beautiful destinations near Nagpur, look no further than AMZ Cabs. We take pride in offering top-notch outstation taxi services, and here's why you should choose us for your outstation cabs:
Extensive Experience
AMZ Cabs boasts over 5 years of experience in providing exceptional outstation taxi services in Nagpur, catering to both one-way and round trips. We hold an All India Tourist Permit for our taxis, ensuring you can travel from Nagpur to any corner of the country hassle-free.
Affordable Travel
Whether you're planning a trip to Amravati, Mumbai, Hyderabad, Shirdi, jabalpur, Tadoba or any other tourist destination, our outstation taxis are available at highly competitive rates. We prioritize your budget while delivering a comfortable and secure travel experience with our experienced and reliable drivers. For a quick overview of our outstation taxi charges, don't hesitate to check our rates for Nagpur to various destinations.
Versatile Fleet
We understand that every traveler has unique needs. That's why we offer a wide variety of taxi vehicles to accommodate your long-distance journeys. Our fleet is not only diverse but also well-maintained for your peace of mind. With AMZ Cabs, you'll find:
Well-Maintained Cabs
Experienced Drivers
Punctuality
Quality Service
Ready to embark on your journey? Call us now at +917666840935 for instant taxi bookings.
Outstation Taxi Fare in Nagpur as of 2023
For your convenience, we've provided the fare details for our outstation taxi services in Nagpur:
Vehicle
One Way
Round Trip
Km Per Day
Night Halt
Swift Dzire
₹11
₹12
300 Km
₹300
Maruti Ertiga
₹14
₹15
300 Km
₹350
Toyota Innova
₹16
₹17
300 Km
₹375
Innova Crysta
₹17
₹18
300 Km
₹400
Trust the Best Taxi Service in Nagpur
When you arrive at Nagpur Airport or Railway Station and seek a reliable, affordable, and reputable outstation taxi service, your search ends with AMZ Cabs. We specialize in offering exclusive outstation taxi services from Nagpur to various parts of India.
Hassle-Free Outstation Taxi Booking: Booking your outstation taxi from Nagpur is a easy. Just give us a call at 7666840935, and we'll take care of the rest.
Clean, Well-Maintained Vehicles: We understand the importance of a comfortable and safe journey. That's why we offer clean and well maintained outstation cabs in Nagpur
Client-Centric Service: At AMZ Cabs, our utmost priority is client satisfaction. We go the extra mile to ensure our customers are happy and content with our services.
Professional Drivers: Our outstation cab drivers are not only experienced but also trained in advanced management techniques. We conduct regular background checks to ensure your safety.
Punctuality Matters: Punctuality is a non-negotiable aspect of our service. No matter where your journey takes you, our taxi rentals will get you to your destination on time.
Extra Luggage Space: Our long-route service vehicles come equipped with ample luggage space on top, so you can carry all your belongings comfortably.
Plan Your Road Trip with Confidence
In the car rental service for outstation business since 2018, AMZ Cabs knows precisely what travelers are looking for. We've assembled a well-maintained fleet of outstation cabs, driven by experienced and verified drivers who will ensure you reach your destination without any hiccups.
We've maintained complete transparency in all our dealings. We even provide actual images of the vehicles you'll be traveling in. If you're in search of a hassle-free interstate journey from Nagpur to anywhere in India, don't hesitate to contact us.
When you're seeking reliable, affordable, and high-quality outstation taxi services in Nagpur, AMZ Cabs is your ultimate choice. Don't miss out on the opportunity to travel in comfort, style, and safety. Book your outstation taxi with us today and experience the difference!
Services in Nagpur