Nagpur To Tadoba Taxi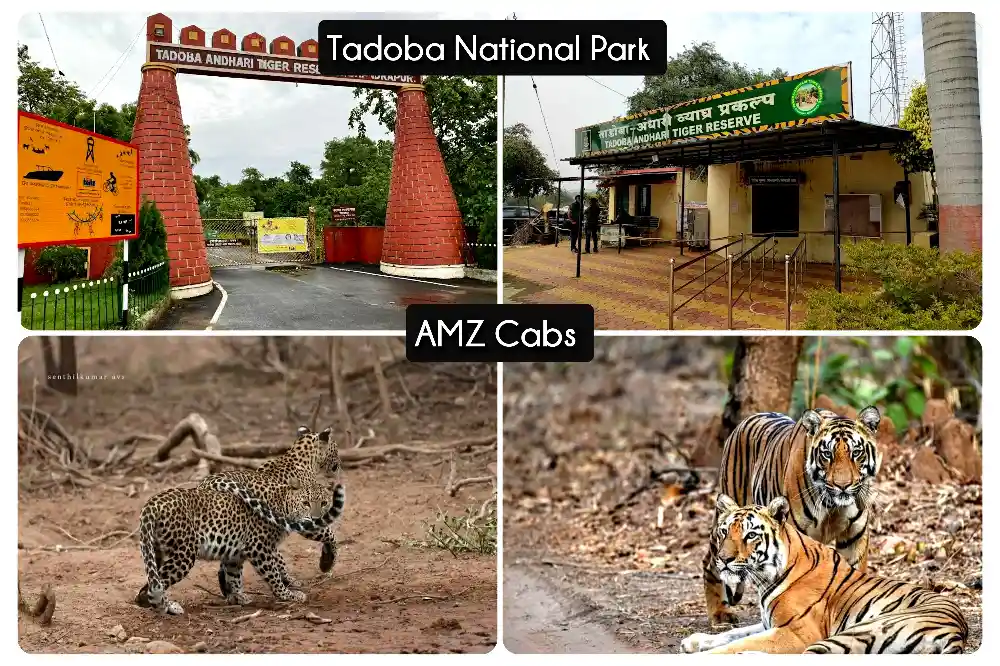 Nagpur To Tadoba National Park Taxi Service
Experience a Stress-free Journey with Nagpur to Tadoba Taxi Service. Discover Exciting Deals on One-way and Round-trip cab Options, with Rates as Low as Rs. 12 per km.
Compare from a variety of car rentals such as Innova, Dzire, Ertiga, Crysta cars. Enjoy the best offers for one-way or round-trip AC or non-AC cab bookings.
Hire our reliable Nagpur to Tadoba Cab Service. Whether you're departing from Nagpur Railway Station or any other location in Nagpur, we have a wide selection of cabs to cater your needs. We are dedicated to providing you with the best deals and excellent car rental services for your journey.
Nagpur to Tadoba by Car
Traveling from Nagpur to Tadoba by car is seamlessly connected via Chandrapur-Nagpur Road / Amori-Nagpur highway, offering a convenient and comfortable journey. The distance from Nagpur to Tadoba is approximately 145 km by road, and typically takes around 3.5 hours.
Tadoba road trip attractions:
Shri Gajanan Maharaj Mandir
Shri Bhonde Mahadev Mandir
Shitla Mata Mandir
Sai Mandir
Champa Ashram Temple
Hanuman Mandir
Chavara Ashram
Shiv Temple
Nagpur to Tadoba Taxi Fare
For a one-way trip, the Nagpur to Tadoba taxi fare starts from ₹3,600. And for round trip, cab fare is ₹12 per kilometer.
Vehicle
One Way
Round Trip
Swift Dzire
₹3,600
₹12
Maruti Ertiga
₹4,500
₹15
Toyota Innova
₹5,100
₹17
Innova Crysta
₹5,400
₹18
Included km is 300 and toll-tax/parking will be extra.
Booking Nagpur to Tadoba National Park Taxi
To book the Nagpur to Tadoba taxi service, all you need to do is call +91-7666840935. A cab will be arranged according to your needs. We will also help you with the best rental package according to your budget.
Why book Nagpur to Tadoba taxi with AMZ Cabs
About Tadoba
Nagpur to Tadoba is a favored route for tourism, leading to Tadoba National Park in Maharashtra. As one of India's fifty tiger reserves, Tadoba is the largest and oldest park in the state, named after the tribal God "Taru" and the river "Andhari" that runs through the region.
Tourists are captivated by Tadoba's rich history, with a shrine dedicated to God Taru, a tribal chief killed by a tiger. Tadoba offers safari experiences, including open Gypsy and bus safaris, where you can spot wild animals like tigers and sloth bears.
For a memorable Tadoba experience, book a taxi from Nagpur to Tadoba with AMZ Cabs. Discover the beauty and wildlife of Tadoba hassle-free, with taxi services that cater to your travel needs. Book now and embark on an unforgettable journey from Nagpur to Tadoba!
Attractions Near Tadoba National Park
Moharli
Tadoba Lake
Kolsa Lake
Zari Jamni Reservoir
Tadoba Lake Viewpoint
Erai Dam
Junona Lake
FAQs About Nagpur to tadoba cabs
Similar Location