Nagpur Darshan Taxi
Discover Nagpur in Style with Darshan Packages
Revel in the allure of Nagpur through the exclusive Nagpur Darshan Taxi packages offered by AMZ Cabs, meticulously curated to ensure an enchanting exploration of the city's prominent attractions. Whether you're traveling with family or friends, our diverse range of packages promises an unforgettable journey through this captivating city.
Nagpur Darshan Cabs – City Sightseeing
Embark on a brief yet enriching trip by choosing AMZ Cabs' Nagpur Darshan packages, a valuable investment for a fulfilling travel experience. Our fleet boasts top-tier options like Swift, Dzire, Ertiga, and Toyota Innova, catering to various family sizes. Your exploration of Nagpur's key tourist spots becomes effortless with our reliable services and streamlined Darshan package bookings.
Tailored Itineraries and Budget-Friendly Choices
AMZ Cabs provides a flexible selection of cars and well-crafted itineraries, ensuring coverage of must-visit places in Nagpur. With competitive rates and a commitment to quality service, our Nagpur Darshan cab bookings ensure a trouble-free and enjoyable journey. Trust AMZ Cabs to offer the best deals and amenities, enhancing your Darshan package experience.
Full Day Cab/Taxi Packages
For a more immersive exploration, opt for AMZ Cabs' full day cab/taxi packages, allowing you to book an 8 hour/80 km & 10 hour/100 km journey tailored to your preferences. This extended timeframe ensures ample time to delve into major attractions within and around Nagpur. If your exploration is confined to the city limits, consider booking local cabs in Nagpur, customized to meet your specific travel needs.
Convenience at Affordable Fares
Booking AMZ Cabs' 8 hr/80 km package not only ensures affordability but also a comfortable and hassle-free travel experience. These packages are designed to facilitate your exploration, providing the convenience you seek while touring the city. For further details or to make a reservation, feel free to call us at 7666840935. Your perfect Nagpur Darshan adventure awaits with AMZ Cabs.
show less
Nagpur Darshan Taxi Fare
Vehicle
8 Hr/80 Km
10 Hr/100 Km
Extra Hr
Swift Dzire
₹2,000
₹2,500
₹250
Maruti Ertiga
₹2,400
₹3,000
₹300
Toyota Innova
₹3,000
₹3,750
₹350
Innova Crysta
₹3,300
₹4,000
₹400
booking Nagpur darshan Taxi with AMZ Cabs
To book a Nagpur Darshan taxi, simply give us a call at 7666840935 or conveniently book online through our website. Explore Nagpur's cultural and historical treasures with ease by choosing our reliable taxi service.
---
Why Choose AMZ Cabs?
Local Expertise: Navigating a new city can be daunting, but with our Darshan taxi service, you have the advantage of local expertise. Our drivers are not just chauffeurs; they're your gateway to Nagpur's hidden gems, ensuring you don't miss out on anything the city has to offer.
Time Efficiency: In a city as dynamic as Nagpur, time is of the essence. Our punctual service guarantees that you can maximize your stay without worrying about logistics. Explore more, wait less, and make the most of your visit.
Cost-Effective: Contrary to popular belief, our Darshan taxi service is a cost-effective way to explore Nagpur. With transparent pricing and no hidden fees, you'll find that our service offers exceptional value for money.
Popular Places to Visit in Nagpur – Top Attractions
Deeksha Bhumi
The word Deeksha Bhoomi means a place of spiritual awakening. The stupa is the largest amongst all Buddhist stupa in India. Deekshabhoomi is one of the major Buddhist pilgrim centres in India. Its construction started in 1968 over four acres with quarters for monks. The stupa was built in 1978 and has been revered as a major Buddhist site since. It is the largest stupa in Asia and the largest hollow stupa in the world.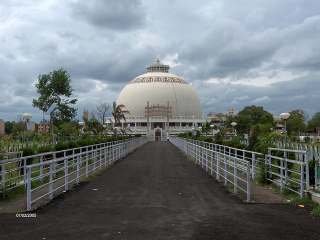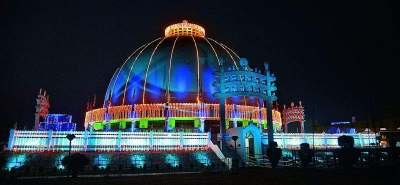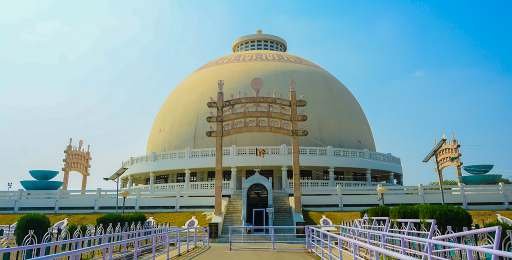 The geographical land spreads over 22 acres, covered with lush green beautification. The central part is dedicated for the giant stupa. Sheo Dan Mal, a famous architecture in Nagpur was handed over the responsibility to design a befitting structure of the stupa. He studied the Buddhist architecture around the world for more than two years and came up with a glorified design that reflects the teachings of the Buddha.
---
Ambazari Lake
Ambazari Lake is one of the 11 lakes in Nagpur and is the largest lake in the city. The Nag River of Nagpur originates from this lake. This lake is the prime source of water that is supplied to the officials of the Government and some important people. This lake is the source of the Nag River. This being a prime important place in the Nagpur city, it is taken care of and maintained by the Municipal Corporation of Nagpur. Ambazari Lake, being one of the most important tourist attractions in Nagpur, has been made a much more memorable place to visit as now, you can enjoy a musical fountain, amusement games and different types of electric rides in the garden next to it.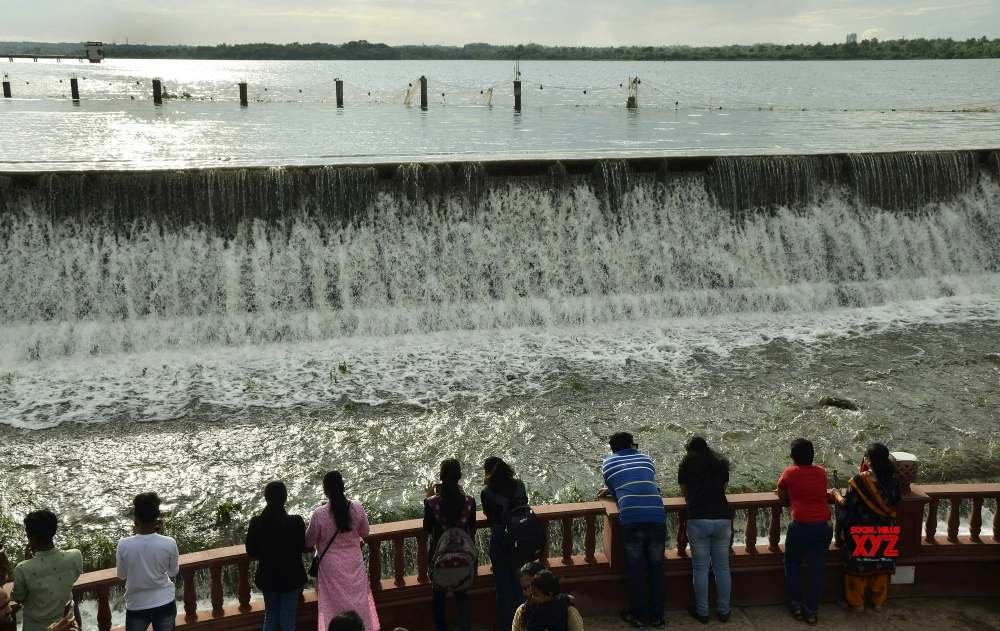 Activities: Boating, Games, Rides, Pubs, Restaurant.
All this activities adds to the fun and excitement of visiting the lake and help them to explore the surrounding beauty.
---
Ramdham
Ram Dham is a cultural theme park constructed on Jabalpur road in Nagpur. Om statue here is one of its kind, the largest in the world which attracts tourists from across the nation.
There are many tiny temples here that replicate the original most popular temples of India. Moreover, on special occasions like festivals, Ramdham also conducts special events, competitions, exhibitions and other forms of celebrations and interactive activities.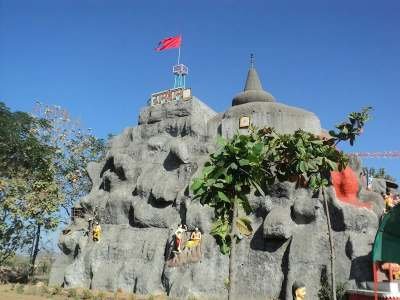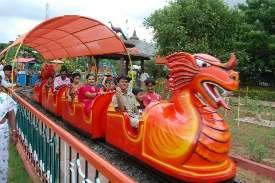 The idea behind Ramdham is that the people who cannot afford to go on costly pilgrimages all over India can have a darshan at one place. Ramdham is a place one can look forward to, for solace and peace from worldly cares. All the Teerths of the country under one roof- namely the Ashtavinayaks of Vidarbha and Maharashtra, the twelve Jyotirlingas of India and the auspicious Vaishnoo Devi temple can be seen together and sought the blessings of in an artificially constructed hill or 'Chandra Parvat'.
---
Swaminarayan Temple
Swaminarayan Temple is located on Ring Road, Nagpur which is also known as Akshardham Temple. The temple was inaugurated on 7 October 2013. This temple is dedicated to Lord Lakshmi and Narayan and is the 750th Swaminarayan temple. It has the idol of Lakshmi Narayan which is made of marble. In the evening, when the entire complex is lit up with lights, its beauty increases manifold.
The complex has a spacious kitchen, Yatri Niwas, Sadhu Sadan, a restaurant, children's play area and a parking lot. It attracts a large number of devotees and devotees from all over the country and abroad.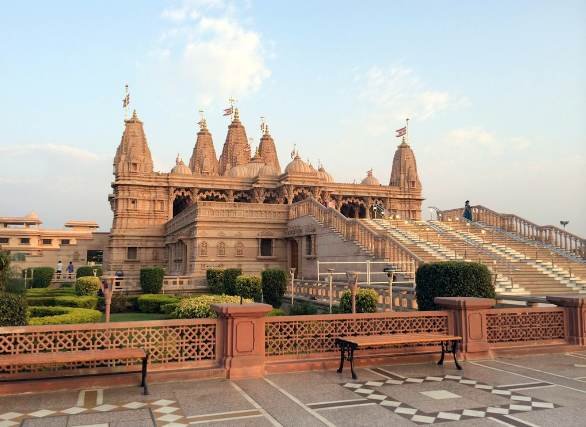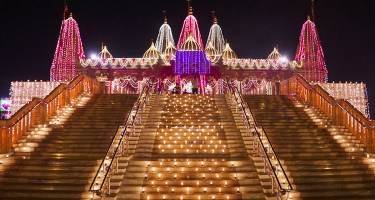 The temple has beautiful pillars with attractive carvings and figures. The vaulted ceiling has an equally attractive carved decoration. Built on the style of Sompuri architecture, this magnificent building can amaze anyone. It has a two storeyed construction and has a staircase at the entrance. The temple is decorated with paintings, frescoes and a green carpet.
Timing: Swaminarayan Temple Open from 08:00 am to 12:00 pm, 04:00 pm to 08:30 pm all days in week, No entry fees.
---
Shri Balaji & Shri Karthikeya Temple
Shri Balaji & Shri Karthikeya Temple is located about 6kms north-west of Nagpur, atop the scenic Seminary hills is the Sri Balaji Karthikeyan Temple, one of the most revered temples in the city. The deities of the temple are Lord Balaji, Lord Kartikeya (Muruga, son of Lord Shiva). Lord Kartikeya is believed to be the commander-in-chief of the army of Hindu Gods.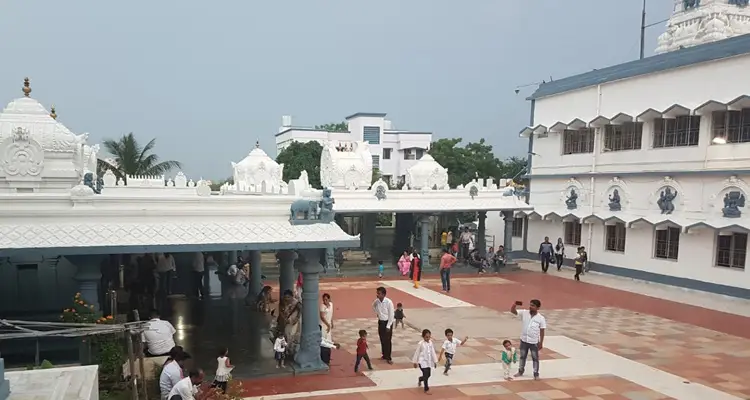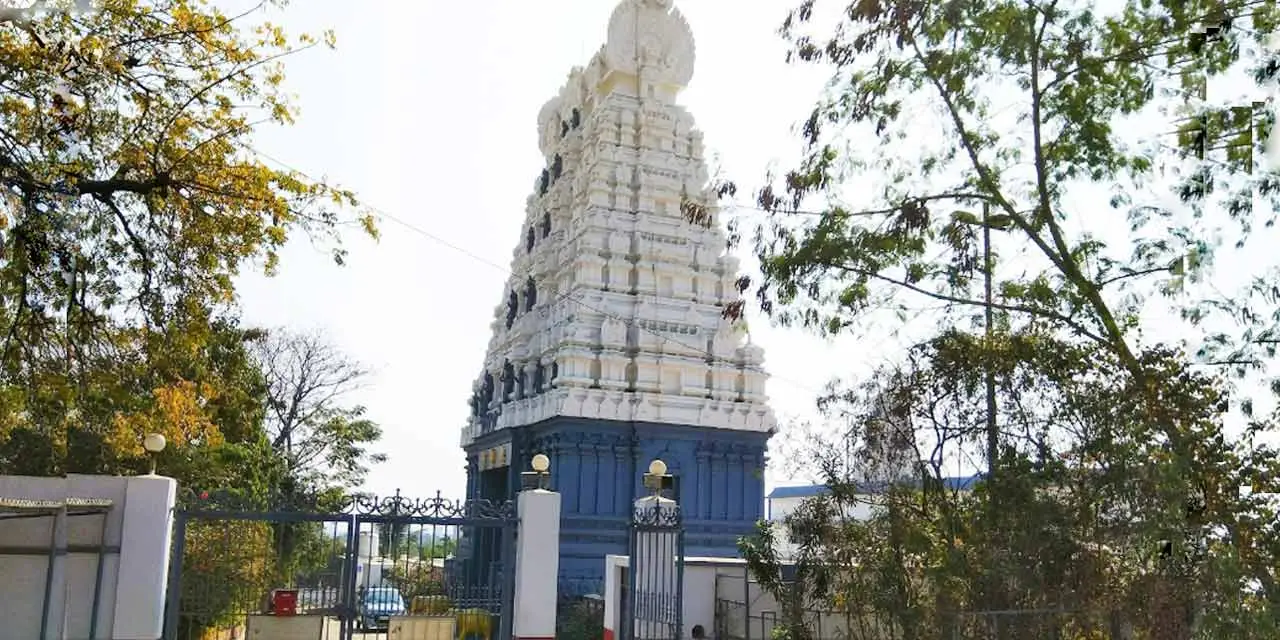 The hri Balaji & Shri Kartikeya Temple is always in the process of growth, with more and more devotees coming from far and wide places to seek spiritual enhancement and solace. They have time and again expressed their strong desires to construct a 'Rajagopuram', a 'Mahamandapam', a library and a Vedic Pathshala, for the beautification of Shri Balaji & Shri Kartikeya temple.
Sri Balaji and Sri Kartikeya Temple Nagpur Timings:
Timing: All Day (6:00 am – 11:00 am) & (4:00 pm – 8:00 pm).
Similar Location