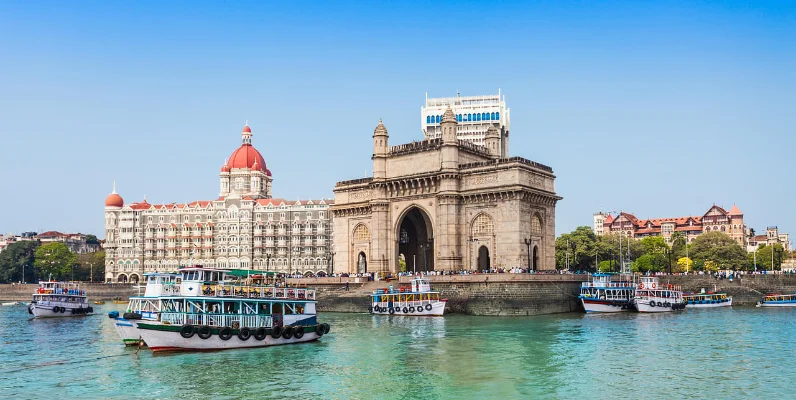 Mumbai Darshan Cab Service
Book Mumbai Darshan Taxi with AMZ Cabs for safe, comfortable, and reliable journey. Our professional drivers have extensive knowledge of the route and will ensure you arrive at your destination on time. Our vehicles are well-maintained, and our rates are affordable. Whether you're traveling for business or pleasure, our cab service is the perfect solution for your transportation needs. Book taxi online or give us a call, and we'll take care of the rest.
About Mumbai
Mumbai, also known as Bombay, is the capital city of the Indian state of Maharashtra. It is the most populous city in India and serves as the financial, commercial, and entertainment hub of the country. Situated on the west coast of India, Mumbai is known for its vibrant energy, diverse culture, and bustling lifestyle.
One of the defining features of Mumbai is its impressive skyline, dominated by high-rise buildings, corporate offices, and luxurious residential complexes. The city's iconic landmarks include the Gateway of India, an arch monument overlooking the Arabian Sea, and the Chhatrapati Shivaji Terminus, a historic railway station known for its stunning architecture.
Top 10 Places to visit in Mumbai
Gateway of India: A magnificent arch overlooking the Arabian Sea, symbolizing Mumbai's historical significance and welcoming visitors to the city.
Marine Drive: Also known as the "Queen's Necklace," this iconic seaside promenade offers stunning views of the sea, especially during sunset.
Chhatrapati Shivaji Maharaj Terminus: A UNESCO World Heritage Site, this architectural marvel is a blend of Victorian Gothic and Indian styles, showcasing Mumbai's rich history.
Elephanta Caves: Located on Elephanta Island, these ancient rock-cut caves feature intricate sculptures and carvings, offering a glimpse into India's artistic heritage.
Siddhivinayak Temple: A revered Hindu temple dedicated to Lord Ganesha, attracting millions of devotees and visitors each year.
Haji Ali Dargah: A striking mosque and tomb located on a small islet off the coast, accessible via a causeway during low tide, known for its spiritual significance.
Chhatrapati Shivaji Maharaj Museum (formerly Prince of Wales Museum): Home to a vast collection of art, artifacts, and historical exhibits, showcasing India's cultural diversity.
Juhu Beach: A popular hangout spot with a vibrant atmosphere, offering sandy shores, street food, and a view of the Arabian Sea.
Bandra-Worli Sea Link: An engineering marvel connecting the neighborhoods of Bandra and Worli, providing a breathtaking drive over the sea.
Sanjay Gandhi National Park: A green oasis in the midst of the city, this park offers a variety of flora and fauna, along with the ancient Kanheri Caves.
Book Nagpur To Mumbai Darshan Taxi
AMZ Cabs is one of the most convenient and hassle-free taxi providers in the region. The process of booking Mumbai Darshan Taxi is fairly simple. you can call on 7666840935 or WhatsApp to book a cab. To allow us to help you with the best package.
FAQs on Mumbai Darshan Cab
Similar Location